Commission Art Story #6 - What do you give to a wife that has "everything"?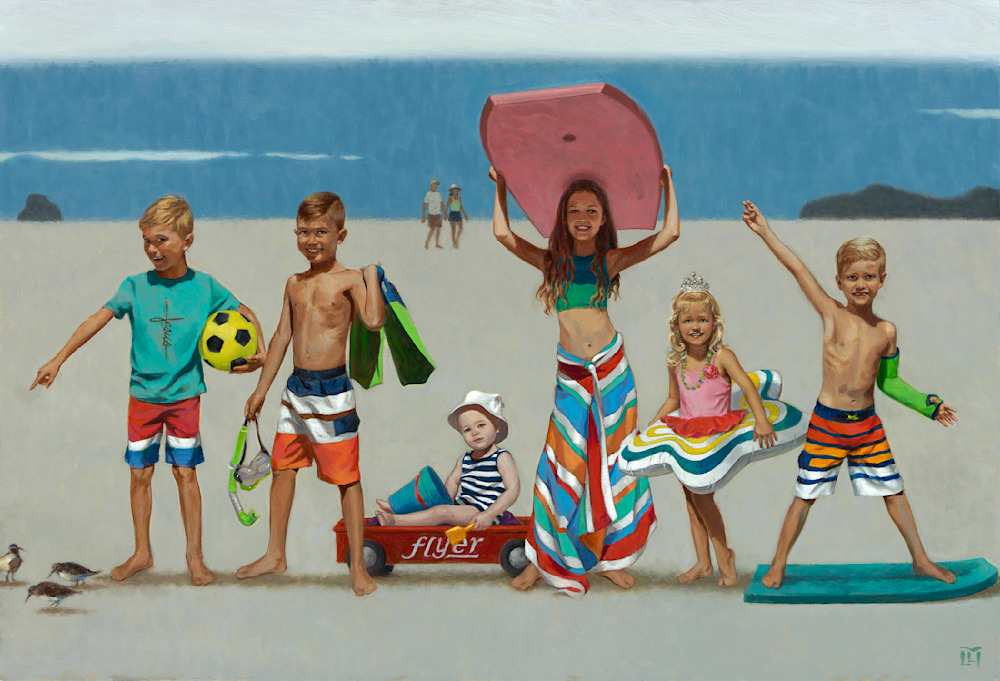 What do you give the wife and grandmother who has everything?
How about a portrait that captures the individuality and lively essence of her six grandkids as a surprise Christmas gift?
I was contacted in September by her husband who had seen one of my paintings Halcyon Days, at a local show and wanted a similar approach. While his wife was out of town I visited their home and helped decide the size and location where the painting would work best.
The painting commission had to be kept a secret from his wife, so I worked closely with his oldest daughter, her family and the families of his two sons. I quizzed the families about their kids' personalities and interests. Once I understood the six children better, I suggested outfits and poses that complimented their uniqueness. Then I shot approx. 800 photos of them individually and as a group with closeups and optional poses.
In the final painting you can see a few examples: The little girl was a "princess" in the best sense of the word, so she wore a tiara, a tutu and an inner tube (after all, they live in Southern California and spend a lot of time on the sand and in the ocean). The oldest child is an 11-year-old girl and is the leader of the pack and paid me perhaps the greatest compliment when, after seeing the painting, she said, "I look awesome!" And the boy on the far right is always pulling pranks and cutting up. The broken arm was unexpected but really fit his always-joking personality as he "rode" his boogie board on the sand.
The small figures in the background are the grandparents who walk on this their favorite beach nearly every day when in town.
An added bonus that the collector hadn't expected was the ability to have giclée museum-quality prints of the painting made for each of the adult family members.
Several times I've had the pleasure of painting a commission to be given as a gift. Maybe it's time for you to "visulate" this perfect gift? It would be an honor to partner with you to capture in paint something that means so much and can't ever be duplicated.
Feel free to send me an email if you'd like to explore an idea or two.
NOTE: To see a larger image and Halcyon Days....