Commission Art Story #2 - Create a tribute to what you love.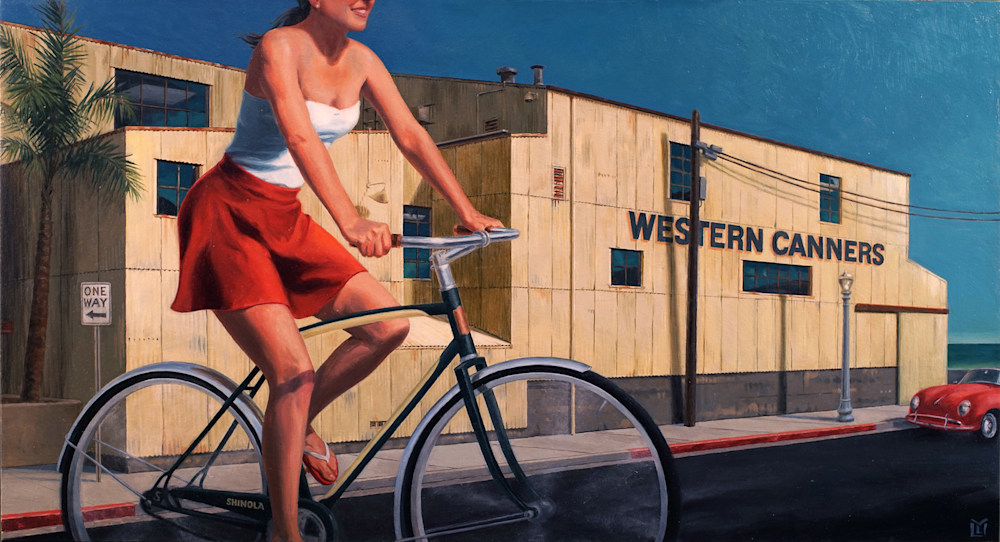 Why commission a piece of art? What you love is worth commemorating.
A few years ago, a collector husband and wife team, met with me to discuss an idea for a commissioned painting. From that initial conversation alone, I could tell this commission was going to be a conceptual challenge. They wanted to somehow combine their love for the Southern California lifestyle, the rapidly disappearing old Newport Beach bay-front factory parts of town and Shinola Bicycles made in Detroit. I started by photographing an old factory that had been repurposed as a restaurant and their well cared for Shinola bicycle.
It took several sketches and color studies to arrive at a composition that could work as a painting. The girl riding the bike, of course, represents the SoCal attitude. And since they also drove a Porsche, I added a vintage red roadster on the right to balance the girl's dress on the left. The final painting, titled, is 48" x 27" and is lovingly displayed in their home. As you can see from the following quote, they were pleased with both the process and the result.
"We enjoyed working with Larry, He was able to successfully synthesize some of our favorite places and things, creating a narrative that resulted in a singular, personal, visually enjoyable and provocative image." GR
What do you love? Is there a beautiful painting hidden in there somewhere? It would be an honor to partner with you and capture in paint a few of your favorite people, places and things.

Feel free to send me an email if you'd like to explore an idea or two.